Program configuration for 40tude Dialog 2.0
Make the following adjustments to use our news server:
1
Start the program.
2
If you are using 40tude Dialog for the first time, a "Setup wizard" opens. This wizard will help you during the configuration. Click Next.
3
Several settings have to be entered here:

In "Newsserver settings": You can assign a short name for the server in Descriptive name. We have chosen "NetNews".
Enter the name of our news server News.FU-Berlin.DE in Host. If you prefer both authentication and articles to be transferred over an encrypted connection, check "SSL" and make sure that "Port number" is set to 563; otherwise leave it unchanged at "119".
Enter the username and password you have received from us in the according fields. Click Next.
It is not necessary to enter a password as long as you're on campus at Freie Universitšt Berlin, or connected via VPN or WLAN (but excluding Eduroam at other universities).
Note: This password is not your general ZEDAT password, but a special News password, which is assigned on request.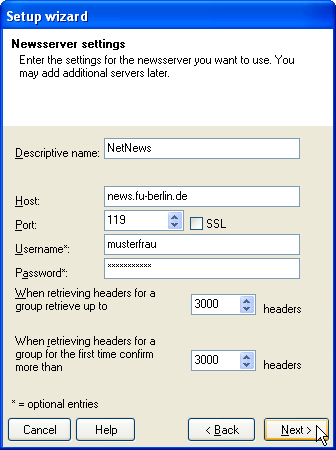 4
In "Identity settings": Enter your real name in Your full name and your e-mail address in Email address. Click Next.
5
You can configure how 40tude Dialog fetches (POP3) and send (SMTP) e-mail and do some further settings in the next three dialog windows. If you plan to use 40tude Dialog to read e-mail, make the required settings in the next two dialog windows. You can also leave the settings on their default values. Click Next as appropriate and Finish in the third dialog window.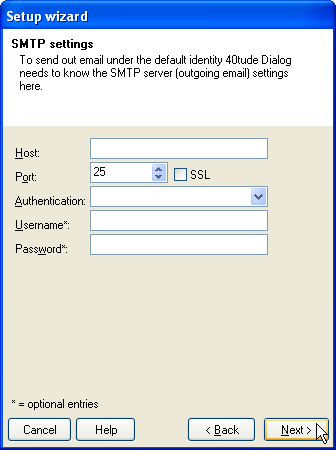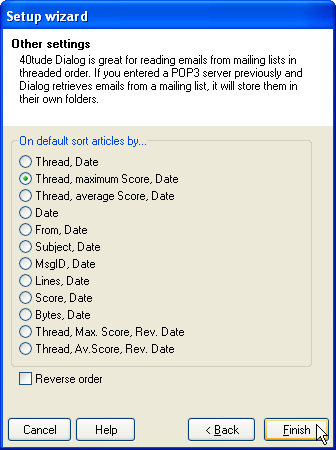 6
Now you are asked whether 40tude Dialog should get the list of newsgroups. Confirm by clicking Yes. Then the program opens a connection to our news server and retrieves the entire list of groups available on our server. This may take some time.
In the status window in the lower part of the main menu you can see when the download is finished.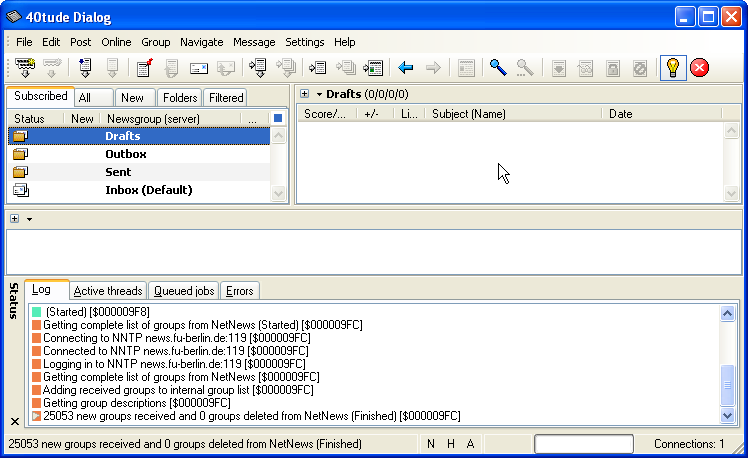 7
Select the All register in the main window to see the list of availabe newsgroups.
You can subscribe a group by right-clicking its name and clicking (Un)Subscribe then. You can also subscribe it by simply double-clicking the name.
8
Now you will see the subscribed groups in the Subscribed register. Fetch the article headers of a group by double-clicking its name.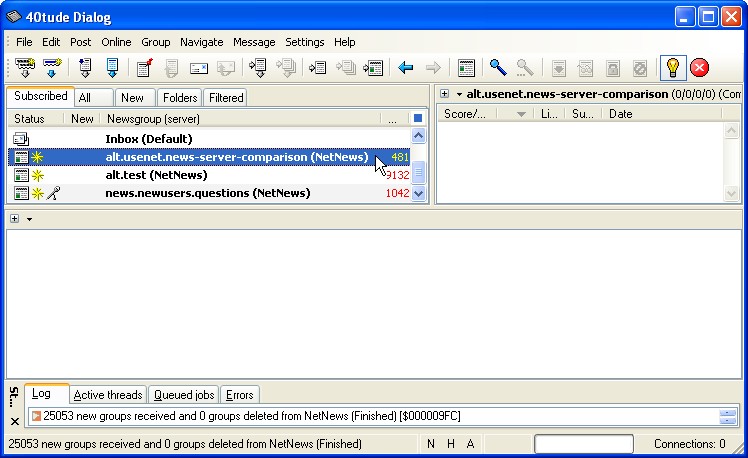 When fetching headers for the first time 40tude Dialog might offer to download a limited number only. Click OK to start the transmission.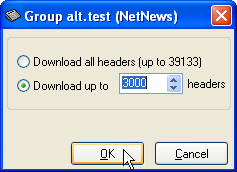 Now you can read and write articles using our server.