Program configuration for Opera 9
Make the following adjustments to use our news server:
1
Start Opera as usual.
2
In the Tools menu click Mail and chat accounts.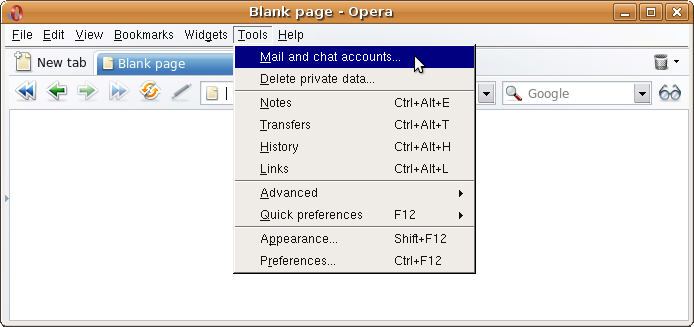 If you have created an account before a "Manage accounts" dialog opens. In that case click Add.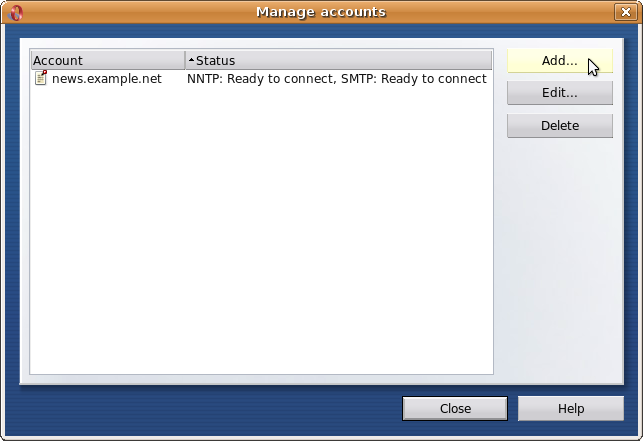 If you are creating the first account in Opera you will see an according message. Confirm by clicking Yes.
In both cases the account wizard starts now. Select News from the list of possible account types and click Next.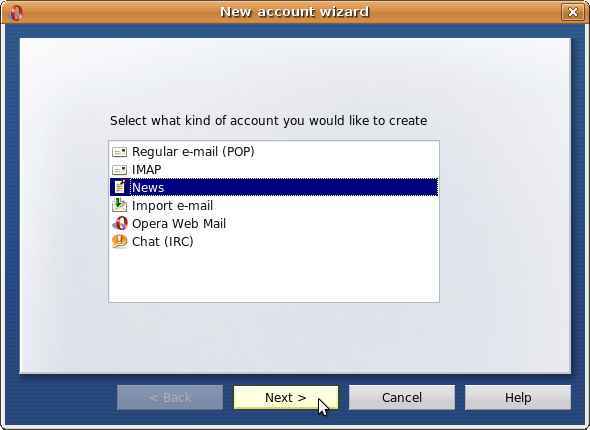 3
Now enter your personal information. Enter your real name and your e-mail address in the according fields. The Organization may be left empty.
Click Next.
4
Enter the name of our news server News.FU-Berlin.DE in the field Incoming server and your e-mail provider's SMTP server name in Outgoing server if applicable.
Click Finish to close the wizard.
The configuration is not complete yet. You will still have to enter your username and your password.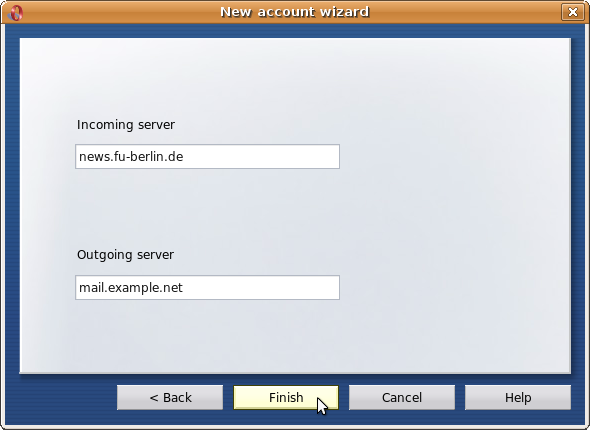 5
After closing the wizard a "Subscribe Newsgroups" windows opens. Click Account, then Properties.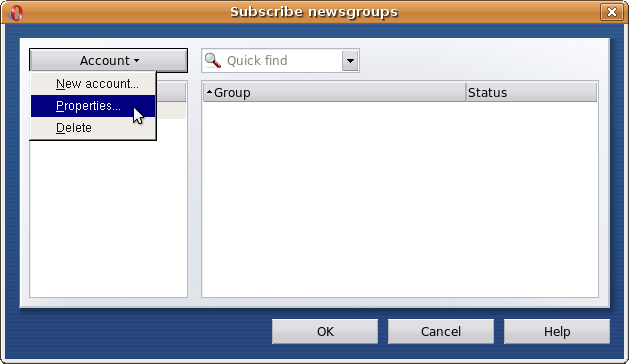 6
You can assign a short name to that account in the General tab. The server name is the default, we have chosen "NetNews".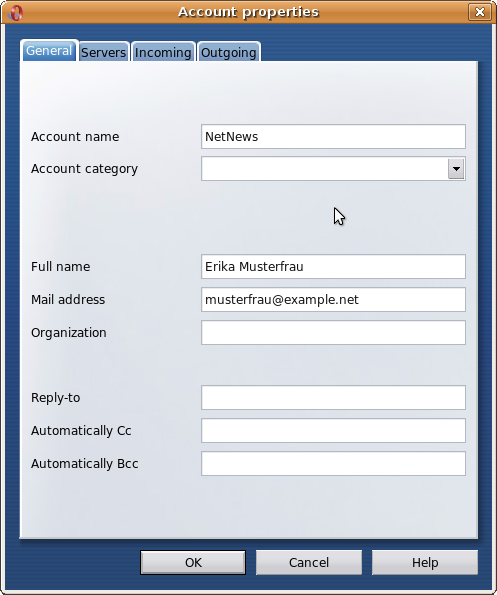 Click the Servers tab and select Plaintext in "Authentication".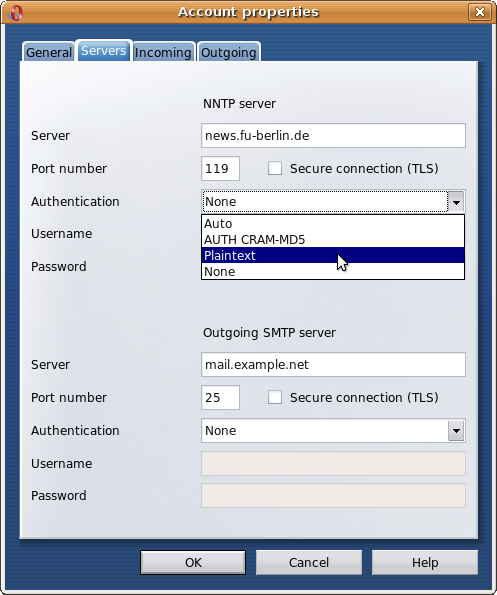 Enter the account details you have received from us in the Username and Password field.
It is not necessary to enter a password as long as you're on campus at Freie Universitšt Berlin, or connected via VPN or WLAN (but excluding Eduroam at other universities).
Note: This password is not your general ZEDAT password, but a special News password, which is assigned on request.
If you prefer both authentication and articles to be transferred over an encrypted connection, check "Secure connection (TLS)" and set "Port number" to 563; otherwise leave it unchanged at "119". If applicable you can also configure username and password of your e-mail server in the lower part of the window.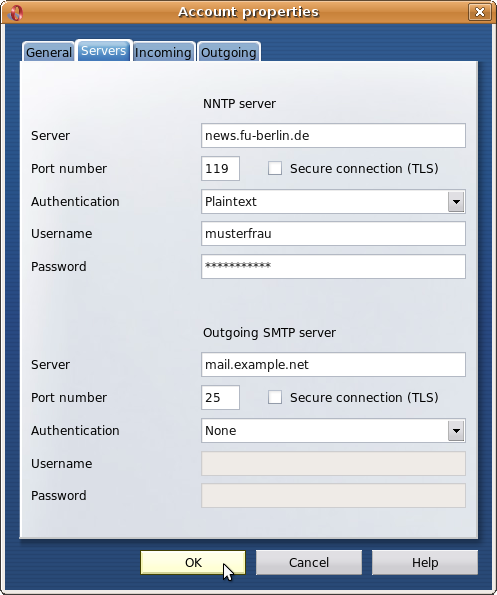 You can change further settings in the Incoming and Outgoing tabs. You might want to change or delete your default signature in Outgoing or adjust some server settings in Incoming.
Click OK when you are done.
7
Now you can select the newsgroups you wish to read. It may take some time until the entire list of newsgroups has been downloaded. You can use the Quick find field to narrow the list of newsgroups shown. Check the groups you wish to subscribe.
Click OK when you are done.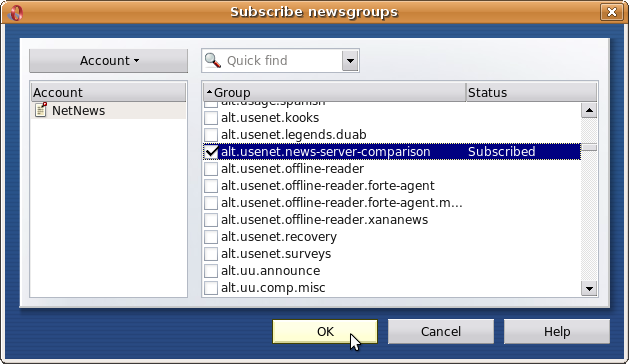 Also close the "Manage accounts" window, if it is still open.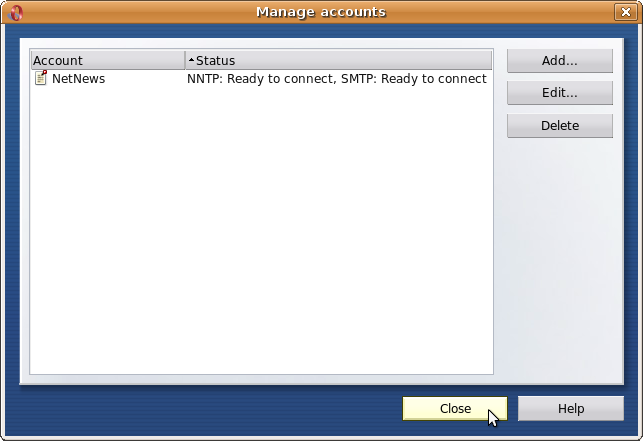 8
In the Mail panel you should find a new item "News at NetNews". If you cannot see that panel, press F4 und click Mail. You can click the small arrow beside that item to see the list of your subscribed groups. You read and write articles in a group by clicking its name.